The bureaucratic burden combined with our complex organizational structure at UC Berkeley can make it difficult to navigate and be efficient. This cross functional task force was created by the EVCP to advise on one of his highest priorities: reducing burden and improving people's ability to navigate UC Berkeley. Making these changes for faculty, staff, and students will boost morale and free up time, allowing people to devote more energy to activities that directly benefit our educational, research, and public service missions. Please send any questions about the taskforce or suggestions for process improvements to evcp@berkeley.edu.
Goals of the Task Force
Broadly, the goals of this task force include: 
Identify process pain points and navigational bottlenecks – help build a catalog of processes, policies, and operations for which reform is both possible (i.e., within our control) and would meaningfully reduce complexity, workload and/or inefficiencies.

Recommend improvements and pathways for change – offer suggestions for specific reforms or changes. Suggest ways we can put practices in place that allow us to continually improve our operations so that they place less, not more, of a bureaucratic burden on people and/or are easier to navigate.

Support solutions implementation – identify and partner with functional leaders and key stakeholders to advance recommended reform and implement solutions.
Areas of Focus
After reviewing more than 800 entries to the reducing bureaucratic burden survey (see graphic below) and extensive converations with campus stakeholders, these four areas were identified as the initial focus for the taskforce: 
Additional areas were identified and will be explored at a later date.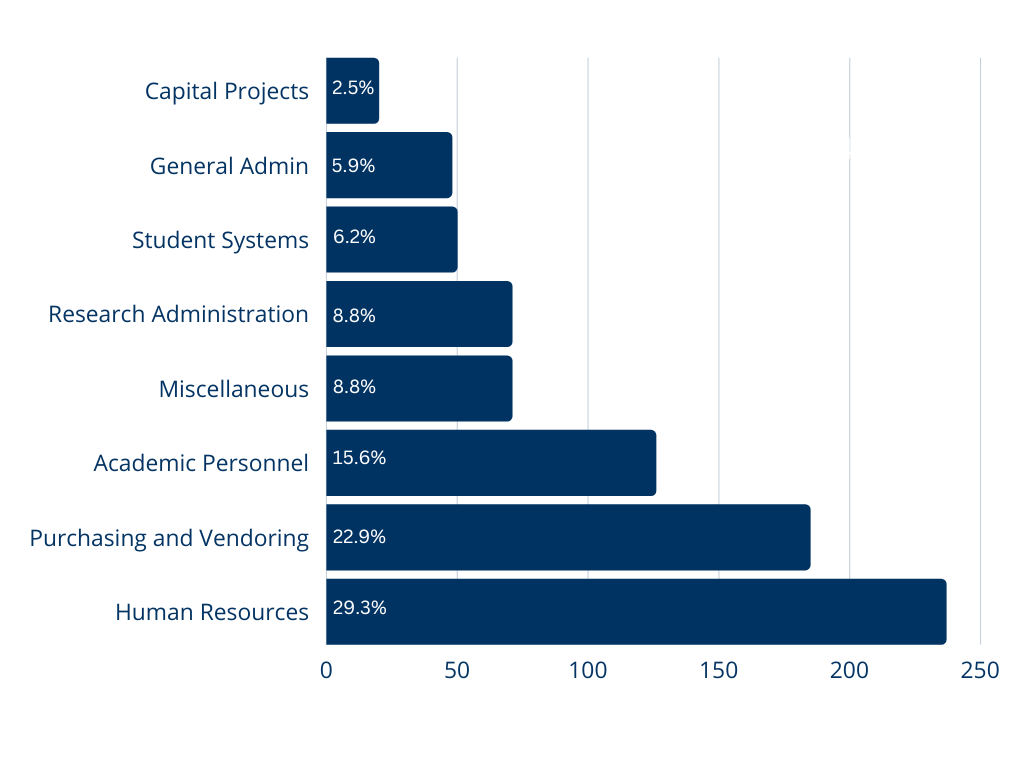 Reducing Bureaucracy Taskforce Roster
Max Auffhammer, Vice Chair, Berkeley Division of the Academic Senate (co-chair)

Andrea Lambert-Tan, Assistant Executive Vice Chancellor and Chief of Staff to the EVCP (co-chair)

Jennifer Ahern, Professor of Epidemiology and Associate Dean of Research, School of Public Health
Roia Ferrazares, Director of Administration, Department of Physics
Linda Fitzgerald, Manager, Department of English
Ann Kring, Professor of Psychology, Division of Social Sciences, College of Letters & Science
Layla Naranjo, Executive Director of People and Administrative Services, Student Affairs

Ana Sanchez, Human Resources Manager, Berkeley Regional Services SHARE Region

Mark Stacey, Professor and Chair of the Department of Civil and Environmental Engineering
Heidi Wagner, Assistant Dean for Finance and Administration, Division of Biological Sciences, College of Letters & Science
Cynthia Weekley, Executive Director, Berkeley Regional Services ERSO Region, and Assistant Dean of Human Resources, College of Engineering
Kristine Wilby, Academic Affairs Manager
Kairi Williams, Assistant Vice Chancellor for Research Administration and Compliance
Adrianne Griffith, Communications Manager (staff)
Erica Wilson, Field Education Program Coordinator (staff)